Eyad Kourdi

, 

Pierre Meilhan

, 

Celina Tebor

 and 

Heather Chen

, CNN
Canada has told its citizens in Sudan that evacuations are "not possible at this time" due to the closure of airspace amid fierce fighting between rival forces.
In a tweet Saturday, the Canadian government urged its citizens to "continue to shelter in place" and assured them it was "coordinating with other countries to respond to the crisis."
The tweet came before an announcement by US President Joe Biden that US government personnel and their families had been evacuated in an operation involving special forces troops.
Earlier on Saturday, Saudi Arabia said it had evacuated Canadian nationals from Sudan to Saudi Arabia. However, the Saudi Ministry of Foreign Affairs did not provide the number of Canadians it had helped to evacuate.
There are 1,596 Canadians signed up to the Registration of Canadians Abroad Service in Sudan but this number provides only an estimate of Canadians in Sudan as registration is voluntary.
Since registration is voluntary, the number of registrants for any given area is typically not fully representative of the number of Canadians actually residing or visiting that area. Canadian citizens can register through the Registration of Canadians Abroad service on the Travel.gc.ca site.
Fierce fighting erupted in the northeastern country on April 15 between the Sudan Armed Forces (SAF) and the paramilitary Rapid Support Forces (RSF), led by Mohamed Hamdan Dagalo.
The ensuing violence has seen hundreds killed and thousands wounded, igniting fears of a humanitarian catastrophe.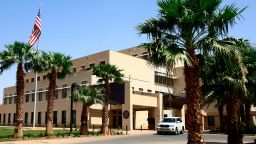 US has evacuated American diplomatic personnel from Sudan
Many Sudanese people have been desperately trying to flee escalating violence in Khartoum, where hospitals are being flooded with victims.
But escaping Sudan now is no easy task. Bus tickets out of the conflict zone are estimated to be at least five times more expensive than before.
Survivors have told CNN that they wanted to leave the country "at any cost." "Death surrounded us from all directions so I said it would be better for us to die attempting to cling to life while trying to survive instead of dying by a stray bullet at home or maybe dying of hunger or thirst," said a father of four.
In addition to Canadians, Saudi authorities said they had also evacuated people from 11 other countries which included Qatar, Egypt, and the United Arab Emirates and Burkina Faso, as well as its own citizens.
Related posts
The Miss Universe-Greatest Celebration of Women
-SOFIE ZERUTO The Miss Universe Organization  is a global, inclusive of organizations that celebrates all cultures, backgrounds and religions. It creates and provide a safe space for women to share their stories and drive impact personally, professionally, and philanthropically. The women who participate in this…
The Risk And Reward Of ChatGPT In Cybersecurity
Juan is an experienced CTO with a demonstrated history of working in the computer and network security industry. He is an information technology professional skilled in SAP and Oracle applications, computer forensics, vulnerabilities research, IPS/IDS and information security. Unless you've been on a retreat in…