Rema can't calm down after earning his career-first Billboard Hot 100 top 10 hit with "Calm Down," featuring Selena Gomez.
"Trying to hold in the tears, I know how hard I worked to get my sound here, I'm grateful to God for how far I've come,"
Rema (real name Divine Ikubor) wrote in an Instagram post containing a photo of himself and a photo of the March 25-dated Hot 100 chart's top 10. "Love to the ones who believed, love to the Queen @selenagomez."
"Calm Down" was originally released on February 11, 2022 via Jonzing World, Mavin, SMG Music, Virgin and Interscope. It was the second single from Rema's debut studio album Rave & Roses, which peaked at No. 2 on Billboard's World Albums chart. The Gomez-assisted remix arrived on August 25, 2022 and went on to top Global Excl. U.S. as well as U.S. Afrobeats Songs, where it's currently spending a 29th week at No. 1, marking the longest run at the top of the chart since Billboard and Afro Nation launched it in March 2022.
"I don't really do remixes — most of my songs are solo or features. I wanted a female voice on the song. The song was already blowing up, so I felt like we needed someone that could take it up to the next level. From our discussions, planning, and available contacts and friendship, Selena was the best bet,"
The Afrorave artist said in a recent interview with Billboard. "Every day I wake up to good news. Not just good news about how well my career is going; it's about how well my culture is flying. Afrobeats is going to the next level. This song is opening doors and bridges. Listeners want to know what more is coming from Nigeria, what more is coming from Africa. I'm so happy."
Congratulations to Rema! Below is the chat.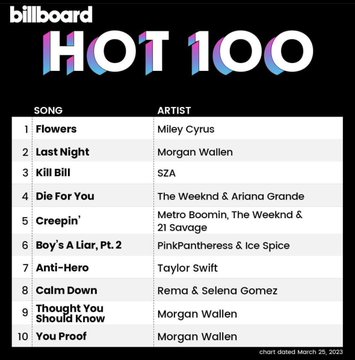 Related posts
The Miss Universe-Greatest Celebration of Women
-SOFIE ZERUTO The Miss Universe Organization  is a global, inclusive of organizations that celebrates all cultures, backgrounds and religions. It creates and provide a safe space for women to share their stories and drive impact personally, professionally, and philanthropically. The women who participate in this…
The Risk And Reward Of ChatGPT In Cybersecurity
Juan is an experienced CTO with a demonstrated history of working in the computer and network security industry. He is an information technology professional skilled in SAP and Oracle applications, computer forensics, vulnerabilities research, IPS/IDS and information security. Unless you've been on a retreat in…